Click on the Free Audio Interview below and fill out form to receive.
Click Here to Read Principles 1-3
BUILDING THE BRIDGE BETWEEN THE CHURCH AND THE SINGLE MOM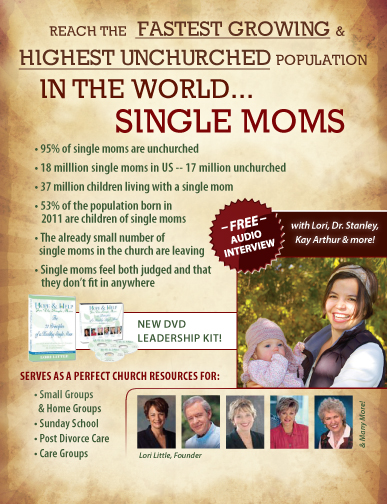 Lori Little (Founder), Dr. Charles Stanley, Kay Arthur, Elizabeth George, Jill Briscoe and more have partnered together to reach Single Moms
How can you provide an effective ministry to this ever expanding segment of the population of teen, never married, divorced or widowed single moms? Let me help you Build the Bridge between your Church and the Single Moms.
Click here to watch Promo Video w/Lori Little, Charles Stanley, Kay Arthur and more.
The solution is the 21 Principles of a Healthy Single Mom DVD Bible Study Kit and book!
Churches all over the world are using the 21 Principles of a Healthy Single Mom DVD Bible Study and book as a: